Meet the Producer: A Little Bit Food Co.
Ludlow Food Festival Meets A Little Bit Food Co.
Inspired by the incredible versatility of fresh herbs and coming from a long line of avid gardeners and foodies, it was only natural for Sophie Lane Fox to start her own business bringing all of this together. We had the pleasure of talking to Sophie about A Little Bit Food Co. who will be exhibiting at this year's Ludlow Food Festival.
Name:
Sophie Lane Fox
Occupation:
Owner/Founder – Food Producer
In three words describe A Little Bit Food Co.:
Versatile, Fresh Herbs
Tell us what readers can expect when they find you at the Ludlow Food Festival?
A Little Bit champions the use of fresh herbs, with each recipe capturing a just-picked taste. I initially launched a range of four versatile dips, dressings and marinades.
The collection is now being expanded with the introduction of A Little Bit Saucy. Continuing the herbalicious theme, the collection includes Rosemary & Tomato Ketchup and a Spicy Tomato & Sage Pasta Sauce. Inspired to deliver quick and simple mealtime solutions - the range benefits from the use of wholesome, natural ingredients and offers retailers an eye-catching collection of condiments.At the Ludlow Food Festival, A Little Bit is also releasing a beautiful gift set containing 100ml bottles of each of the four original dressings - Balsamic & Thyme, Red Onion & Parsley, Raspberry & Mint and Lemon & Tarragon combination.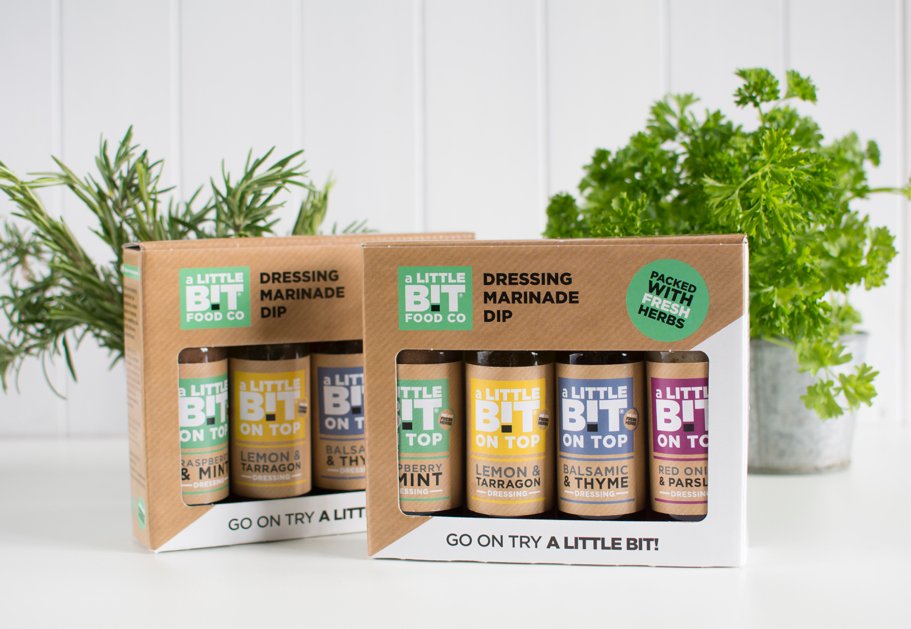 Discover A Little Bit's delicious dressings and sauces that make meals a little bit more exciting.
How did you start?
My family always made a version of the Red Onion & Parsley Dressing when I was a child, everyone used to love it! So, moving forward quite some years, my husband persuaded me to make some bottles and sell them at the school Fete! They all sold out and people kept asking for more so A Little Bit was born!
Have you got a favourite product? Why?
Balsamic & Thyme as it's is a truly versatile dressing; It can be used as a marinade, dip, sauce and cooking ingredient to add a dash of flavour to so many meals. I love thyme, it's an invaluable herb to use in cooking as it can transform so many dishes.
What is our best-selling product? Why do you think this is?
Really all seem to sell in equal quantities – everyone has a different favourite – or they can't decide so buy one of each!
With all that has been achieved in your business so far, what are you most proud of?
I am most proud of my recipes and that they get such a great response from everyone who tries them.
What are you looking forward to most about the Ludlow Food Festival?
The opportunity to get my products in front of a wider audience and also the chance to meet other local producers. It will be fantastic to be part of such an established and well know local event.
Quick Fire Get To Know You Questions:
Favourite Colour? Green
Favourite Food? Salad!!
Favourite tipple? Rose wine
Favourite Restaurant? La Gavroche – a truly one off experience was lucky enough to be taken there once!
Hobby? Gardening and breeding pigs!
Visit A Little Bit Food Co at the Festival and online: http://www.alittlebit.co.uk
Interview by Louise Welsby
Buy-From Shropshire
http://www.buy-from.com/shropshire/
Keywords: Meet the Producer, Ludlow Food Festival 2016