Ludlow - The Food Town
Situated on the River Teme in the outstanding countryside of the Welsh Marches, its medieval street pattern survives almost intact, along with many ancient properties including the magnificent ruined castle and one of the largest parish churches in England.
There are over 500 listed buildings, mostly medieval or Georgian, in the town. Broad Street has often been called 'the best street in England' (have a look and you'll see why), and the Feathers Hotel with its stunning timber facade must be the most photographed hotel in Britain.

But don't think Ludlow is a museum, or a toy town fit only for gastronomic tourists. Far from it, it's a vibrant, exciting town that's full of life. There's always plenty going on including other festivals, and attractions such as the Ludlow Assembly Rooms. For general information about Ludlow, for both visitors and locals, visit www.ludlow.org.uk.
John Betjeman called Ludlow "the perfect historic town".
Ludlow is a central point in the Welsh Marches; the wonderful, unspoiled hilly countryside that straddles the border between Wales and England with lots of ruined castles, unspoiled villages and small towns, and a very special character.
Ludlow isn't short of accolades. It's a great place to visit in its own right and an excellent base if you'd like to spend some time exploring the impressive border countryside that forms the Welsh Marches.
Anyone interested in architecture will warm to the streets of Ludlow's town centre, which includes Broad Street, dubbed one of the finest in England. Throughout the town, Georgian facades rub shoulders with Tudor half-timbered buildings; you'll find more Grade I and Grade II listed buildings within a stone's throw of Ludlow's market square than you could shake a copy of Pevsner at. Fittingly, St Laurence's Church is the ecclesiastical jewel in Ludlow's architectural crown - one of a handful of England's Greater Churches.
This market town of some 10,000 souls contains a great variety of eateries and restaurants, with some of the restaurants getting high ratings in restaurant guides. Take a short drive out of Ludlow and you will find many other excellent and highly rated restaurants and pubs.
Dining out
If you want a high-end fine dining experience, be sure to book well in advance, especially around the festivals as the most popular venues will be booked months ahead.
Restaurants and dining pubs in or within easy reach of town include: The Clive at Bromfield, The Cliffe at Dinham, Bistro 7 of Ludlow, The Parkway, Fishmore Hall and Old Downton Lodge, The Ludlow Kitchen located next to Ludlow Farm Shop. Many of the pubs in and around town serve fresh and locally-produced meals of great and affordable quality.
Food and drink shops
Named 'England's Finest Market Town' by Country Life Magazine some years ago.
Ludlow has a long tradition of selling quality local foodstuffs from the regular market that still trades every week of the year in the square, and there's the excellent Ludlow Local Produce Market (Farmers Market) organised by Local to Ludlow, held on the second and fourth Thursday in the month, that contains only small local food producers.
And there's more to Ludlow than posh nosh.
The town has a wide selection of traditional shops offering quality food and drink - Michelin-starred restaurants might grab the foodie headlines, but Ludlow is every bit as proud of its butchers, bakers and traditional food producers.
Three family-owned butchers do brisk business every day, each with their own specialities, but all selling quality produce, including home-cured bacon and home-made sausages, like they used to taste. In season you'll find game and fresh venison from the nearby Mortimer Forest, and all year round you can buy meat from rare breed animals at Wall's. Pork pies and pasties from Wall's, Griffiths' and Carters of Ludlow are beyond compare. Don't forget to try some black pudding and some white pudding while you're at it.
Ludlow's bakers also do a roaring trade. Price's, for instance, in the market square, still uses traditional, slow-rising dough for its breads and usually has speciality loaves on offer; try the dark beer and walnut loaf made with local brewer Hobson's dark beer, Old Henry.
Regular market traders who offer a wide range of produce day in, day out complement the fruit and veg shops. Then, every second and fourth Thursday, there's a Farmers' Market on the square. There's a dedicated cheese shop, The Mousetrap; The Chocolate Gourmet and the secret treasure being Rickards and Son Ltd in The Bull Ring. If it's organic produce you're after, take a trip down to the bottom of Corve Street, where you'll find Myriad Organics. There's a cornucopia of taste experiences awaiting you in Ludlow - whether you'd like some duck or quail eggs to ring the changes, or fancy some home-made cakes and jams from the Ludlow Country Market.
And last, by no means least, Ludlow Food Centre, situated in Bromfield just a short drive out of town first won BEST farm shop in the UK 2014 and has a huge variety of superb food, much of it fresh from the Earl of Plymouth Estate which surrounds Bromfield and Ludlow.
Pubs and other refreshments
When you need to take a break from all that food shopping, many of the town's pubs can offer an impressively wide choice of traditional real ales and good pub food, usually locally sourced.
Hardly surprising then, that a town with this attitude to quality food and drink plays host to the internationally-renowned Food and Drink Festival, now in its 28th year and based in and around Ludlow Castle.
Ludlow Castle
Ludlow town grew around its castle, which sits at the top end of the square, roofless but with its defensive walls intact.
The castle boasts a selection of towers and skeletal buildings as well as a sizeable open space laid to turf - the outer bailey. But the castle, which used to be the seat of government from which tracts of Wales were once run, is more than an attractive heritage site. It has become Ludlow's exhibition centre, a medieval Earl's Court or NEC that plays host to three major festivals every year.
The Food and Drink Festival
There can be no excuse for not visiting the annual Ludlow Marches Festival of Food and Drink in September!
Massive marquees are erected inside the castle, playing host to more than a hundred and eighty handpicked, small producers of traditional food and drink who offer their wares for tastings and for sale. They are all fairly local to Ludlow - the rules of the Food Festival, which is organised by a team of enthusiastic volunteers, mean that only producers who are based in the counties on either side of the Welsh border are eligible to trade in the tents.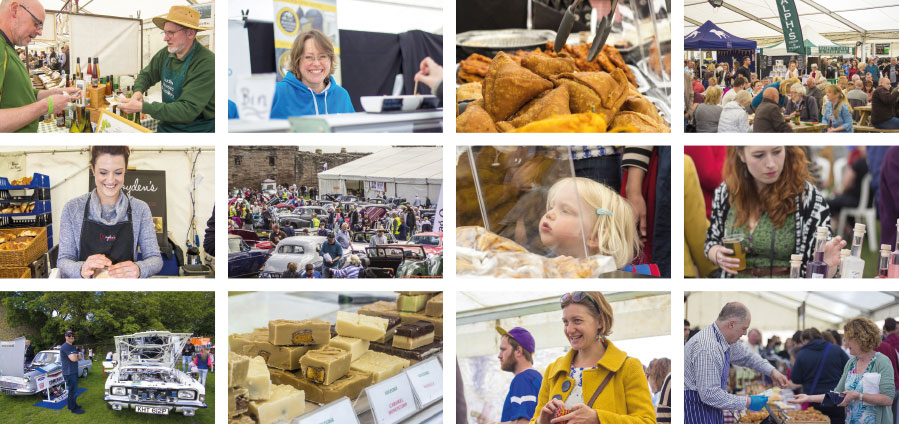 Outside the castle, Ludlow town is taken over by a series of trails - which see visitors sampling and voting for breads, ales and sausages. Indeed, the Sausage Trail is one of the elements of Ludlow's Food Festival that sets it apart from its many imitators.
Every year Ludlow's butchers each come up with a new sausage recipe for the Sausage Trail.
Around 1,000 people buy a voting form online and wander round the butchers' shops tasting a sample of each butcher's festival competition sausage, giving points out of ten for each one. When people have completed the trail they hand in their voting form and get a whole cooked sausage of their choice in a bread bap.
A full programme of talks and demonstrations, including several run by Michelin-starred chefs, is included in the ticket price and over the Food Festival weekend the town is taken over by a host of events.... It really is the unforgettable festival

[Original article by Graeme Kidd, subsequently revised and updated.]
More information about Ludlow, including events and a comprehensive listing of accommodation is available at www.ludlow.org.uk, and from Ludlow Visitor Information Centre on 01584 875053.