The festival takes waste management really seriously and year on in looks to reduce the amount of waste produced that cannot be recycled. We work with Zero Waste Events to ensure that we recycle as much as possible at the Spring festival as well as at the Food Festival. We work hard to ensure that all materials that are separated for recycling do in fact end up being recycled.
The key change for us this year is in the use of PLASTIC. Please bring your own reusable pint glass (or Food Festival cup to our event. Alternatively you can buy one of our pint glasses. Above all else, please reuse the one you get at the festival as much as possible!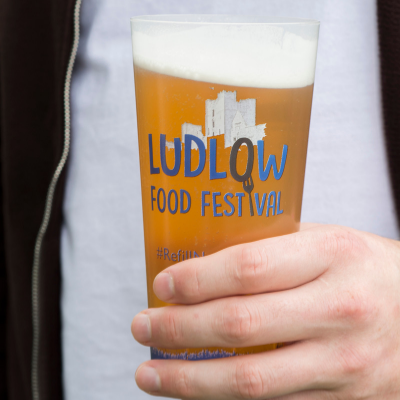 Where does the waste go?
Food waste is separated and sent to Agripost at Cardeston to be made into compost and energy
Compostable plates, trays, napkins & wooden cutlery - sent to Agripost In-vessel composter to make compost
Glass - sent to Veolia Craven Arms to be recycled into new glass products
Plastic/cans sent to Veolia Craven Arms - then sent to Veolia at Four Crosses where the material is sorted into recyclable plastic and non-recyclable plastic. The non-recyclable plastic is sent to energy from waste in theUK. The items made of HDPE (eg milk bottle), PET (eg coke bottle, plastic beer glasses), PP (eg plastic glasses, meat trays, some yoghurt pots) are all sent for reprocessing in the UK - to be made into new plastic products.
Cardboard - sent to Oswestry Waste Paper or Ludlow Skip hire to be baled for reprocessing.
Non-recyclable general waste is collected by Gaskells and sent to energy from waste (incineration).
Keywords: Zero Waste, Reusable Cup, Plastic Free, Ludlow Spring Festival, Society of Independent Brewers