Meet the Producer: Wenlock Edge Farm
Situated in the beautiful South Shropshire hills, Wenlock Edge Farm offers a range of high quality cured meats, sausages and pork products. They have been with us since the beginning so we caught up with them to find out what they will be bringing to this year's Festival.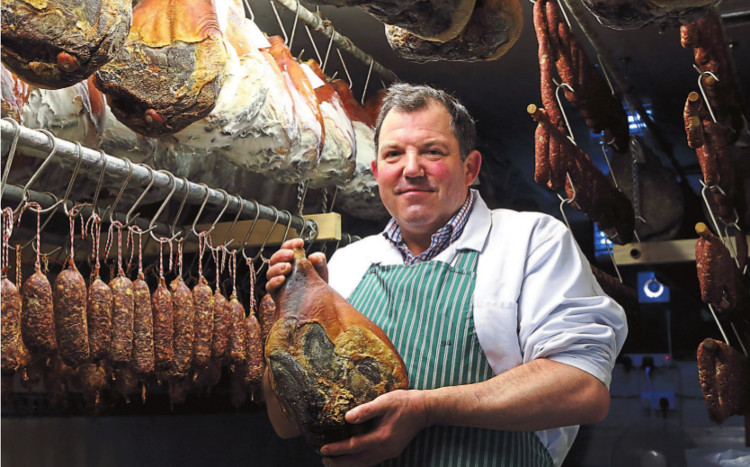 Name: Peter Themans
Occupation: Owner – Wenlock Edge Farm
How did your business begin? I was a pig farmer in South Shropshire with my father. We always had an interest in food, and being farmers, how food was produced. In the mid 1990's we started making sausages just to sell to our friends. At around the same time, farmers markets were beginning to become popular and people were becoming more interested in where their food was coming from.
This year is our 25th Anniversary. How will you be celebrating with us? We will be attending the food festival with our award winning products for the public to sample and buy. Traditional sausages, bacon, hams and black pudding will be available. Recently, our range of salamis, proscuitto, coppa and bresaola secured our position as finalists in this year's British Charcuterie Awards. These products will be taking pride of place on our stall because we feel they are a shining example of what can be produced in Shropshire. Food worthy of national awards.
What can you tell us about your approach to farming and what makes Wenlock Edge Farm so special? The pigs we use are from high health, small herds. This means that they are not fed growth promoters or large amount of antibiotics. We also try and use the whole pig which we feel is more ethical and reduces waste. Maintaining high standards in the food we produce and how we produce it, the service we provide to all of our customers are all very important to us.
What can people expect when they find you at the Ludlow Food Festival? A large selection of pork products, competitively priced. Friendly, knowledgeable and enthusiastic staff.
What are you looking forward to about Ludlow Food Festival? We feel that Ludlow is still a "proper" food festival which attracts people who are genuinely interested how and where their food is produced. It's great to meet these people who appreciate small food producers and shop for quality and not just for quantity.
Do you have a favourite drink that goes perfectly with one of your meat? Our air dried meats (salamis etc.) which are eaten cold, go really well with any red/white wine. And you can never go wrong with a gin and tonic!
Your social shares -
Website: Wenlock Edge Farm
Facebook: Wenlock Edge Farm
Instagram:
Twitter: @wenlockedgefarm
Keywords: