Come and try our new Heartsease Farm flavours at the Ludlow Food Festival
Visitors to Ludlow Food Festival are invited to pop along to the Heartsease Farm stand to sample some of our brand new flavours.
Crafted in nearby Radnorshire using a blend of pure Welsh spring water and 100% natural ingredients, our range of award-winning premium sparkling pressés are deliciously refreshing.
New for 2023, Apple & Rhubarb and Apple & Pear are two new flavours to be added to the Heartsease Farm range – and they make perfect drinking for the summer months or your next gathering.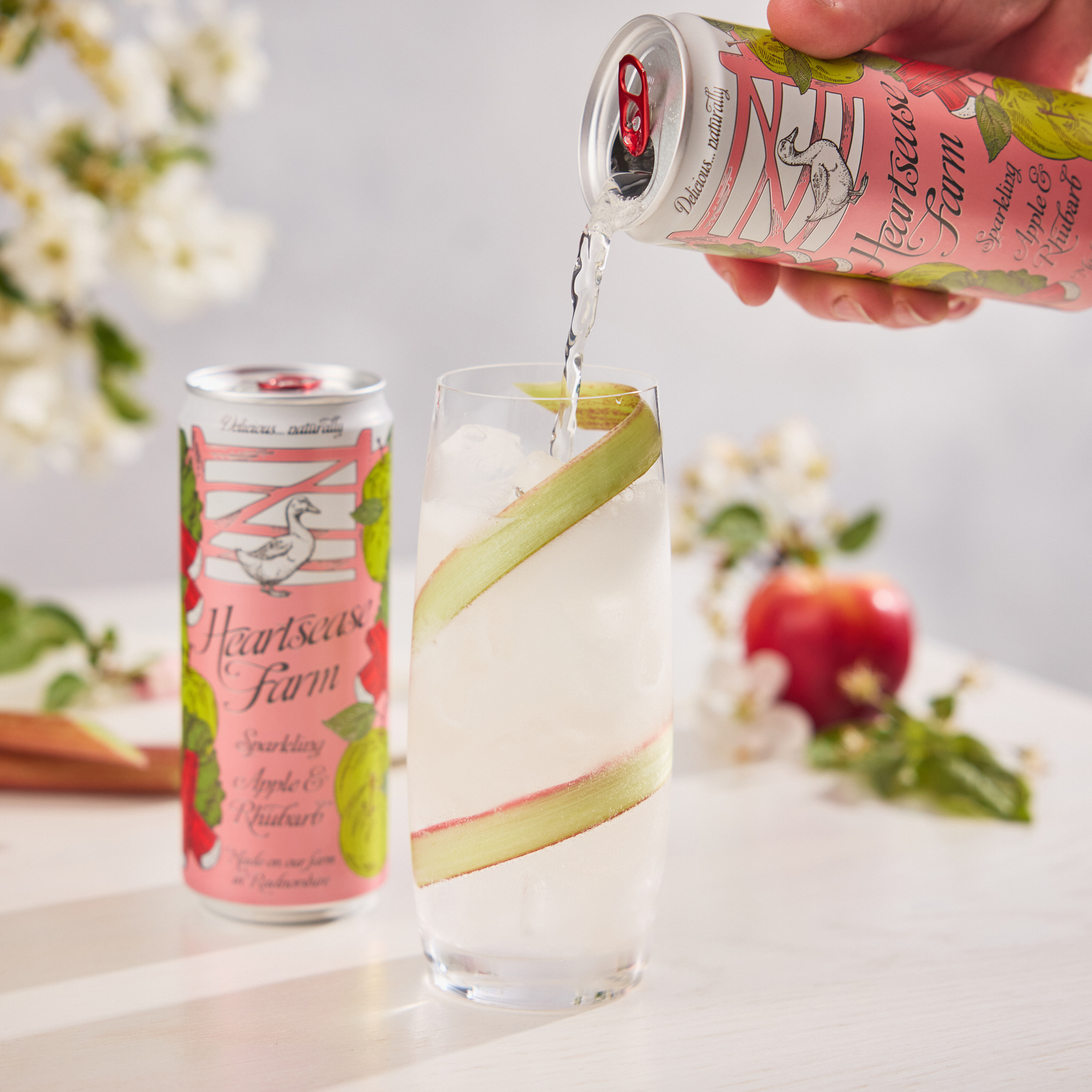 Apple & Rhubarb combines the fresh, sweet taste of handpicked British apples blended with a sharp twang of rhubarb and Radnorshire spring water, while Apple & Pear celebrates British orchards and combines two of the nation's favourite fruits for a delicate and delicious pressé.
Both are lovely to drink on their own or you can use them as a mixer to add a sparkle to your favourite cocktails.
One of our favourite recipes is Apple & Rhubarb Crumble Gin and it's very easy to make.
Simply add plenty of ice to a glass of your choice, a single shot of Orangecello followed by a 25ml dash of Ludlow Hibiscus, Orange & Pink Peppercorn Gin. Top with Heartsease Farm Apple & Rhubarb and garnish with fresh mint and slices of apple. Enjoy!
At Heartsease Farm, we use only the freshest and highest quality ingredients to create our refreshing drinks, which were available for the first time this year at The Championships, Wimbledon 2023.
Not just a range of pressés, Heartsease Farm is a real farm in Radnorshire in Mid Wales.
Here, the Watkins family have lived and farmed for over 120 years. William Watkins, the son of the 5th generation farmer, diversified from farming into soft drinks after discovering a pure spring water source running below the farm.
From then onwards our passion has been to craft the best tasting soft drinks Wales has to offer.
Our Heartsease Farm range of drinks reflect the heritage of our farm and our passion for great flavours. We hope people enjoy drinking them as much as we enjoy making them.
https://www.radnorhills.co.uk/explore-our-ranges/heartsease-farm/
Keywords: