Chef Sotlight: Prudence Staite
Chef Spotlight: Prudence Staite
Wots Cooking Stage | Friday 8th September, 11.30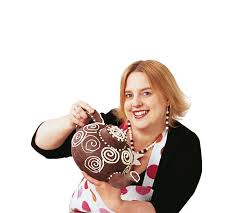 Prudence sculpts with chocolate and food, to make edible art.
In 1996, undecided whether to become a chef or an artist (she'd always cooked as well as making chocolate paintings of people for many years), she really wanted to do both, so a degree at Winchester School of Art followed. More fusing of food and art, wanting people to be able to touch it, smell, enjoy and eat it - therefore really getting fully involved.
Over the years, Prudence has perfected her creation of a thick solid chocolate frame, canvas, edible gold gilt and a white and dark chocolate image - the totally edible chocolate painting.
Bespoke sculptures and paintings of anyone or anything you can think of are also available.
Keywords: Prudence Staite, Chef Spotlight, Wots Cooking, Ludlow Food Festival, Chocolate Ar