Chef Spotlight: Mark & Sue Stinchombe
Chef Spotlight: Mark & Sue Stinchombe
Wots Cooking Stage, Saturday 9th September, 11am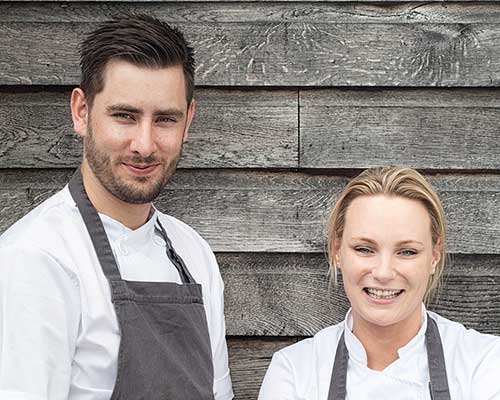 Mark Stinchombe
For fans of Masterchef – the Professionals, you'll instantly recognise Mark who is the reigning champion and one half of the culinary couple behind the extraordinary Eckington Manor Dining Experience, alongside wife Sue.
Mark's love of food began at school, and first entered the kitchens of the acclaimed Royal Crescent in Bath on work experience at 16 years old.
From there he moved on to 'Ston Easton Park' in Somerset, where he served for two years and began to learn how to create menus by using local and seasonal produce. At Michelin starred 'Driftwood' in Cornwall, and under the tutelage of Chef Chris Eden, Mark began to hone his fine dining chef skills before departing to ski slopes for a season of well-deserved youthful fun!
On returning to the UK, Mark undertook training starges in some of the most prestigious kitchens in the world, including 'The Fat Duck' and 'Le Manoir' which then lead to 'Lucknam Park' under Chef Hywell Jones.
It was whilst at 'Le Champignon Sauvage' in Cheltenham, that Mark added classic French cuisine to his craft and also where he met his future wife and co-chef Sue before travelling to Australia, Thailand and New Zealand on a gastronomic culinary adventure together.
Now, Mark and Sue excite guests and visitors with their seasonal menus and recipes developed using produce from Eckington Manor's award winning farm, orchard, vegetable and herb gardens.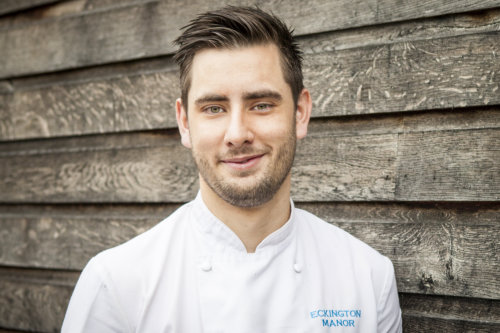 Sue Stinchombe
Sue and her husband Mark are the couple behind the Farm to Fork food philosophy at the heart of 'Eckington Manor.'
Sue trained at Worcester College and 'Wood Norton Hall' before heading to the illustrious training ground of Gordon Ramsay's 'Royal Hospital Road Restaurant.' From there she went on to 'Belle House' in Pershore, continuing her journey to perfect fine dining cuisine.
Sue met her husband to be at 'Le Champignon Sauvage,' and they took a long over-due gap year to begin a culinary adventure which led them to explore the top kitchens and menus in Thailand, Australia and New Zealand. Their journey allowed them to better understand the food and sunshine flavours of this region.
Sue's talents have gained her many awards including Worcestershire Chef of the Year, M.A.R.C.H Young Chef of the Year and Overall Winner, Acorn Award, MAC Awards – Chef of the Year. She has also appeared on 'The Great British Menu,' 'Britain's Best Dish' and as part of 'The Hairy Bikers' television series.
Sue became Head Chef at 'Eckington Manor' having known Judy, founder and owner for many years. Together they share a vision for food: to favour local ingredients, honour seasonality and create an experience of relaxed fine dining where natural flavour and the integrity of ingredients are paramount.
The menus at Eckington Manor are developed using produce from Eckington Manor's award winning farm, orchard, vegetable and herb gardens.
Keywords: Chef Spotlight, Mark Stinchombe, Sue Stinchombe, Wots Cooking, Ludlow Food Festival