Ludlow Lifestyle: Spotlight on Ludlow Food Centre
Ludlow Lifestyle: Spotlight on Ludlow Food Centre
It's a busy time of year for Ludlow Food Centre – as well as thinking ahead to the treats that Christmas will bring us, even the most seasoned of foodies are excited by the prospect of autumn's tantalising offerings, and the celebrations of great food that lie ahead.
Voted as the UK's Food Hall of The Year in April's Farm Shop & Deli awards, Ludlow Food Centre brings together seasonal produce, artisan food production and local fare under one roof. Having also been awarded five gold stars by the Guild of Fine Food in July, it continues to make waves in the speciality food industry. And all of this makes for a particularly exciting few months.
First up in the calendar is Ludlow Food Festival – arguably the finest and most prestigious of the UK's food festivals, now in its 21st year – right on Ludlow Food Centre's doorstep. Showcasing hundreds of independent producers and farm shops within Shropshire and the Welsh Marches, it is the perfect platform for festival goers to sample some of Ludlow Food Centre's handmade produce.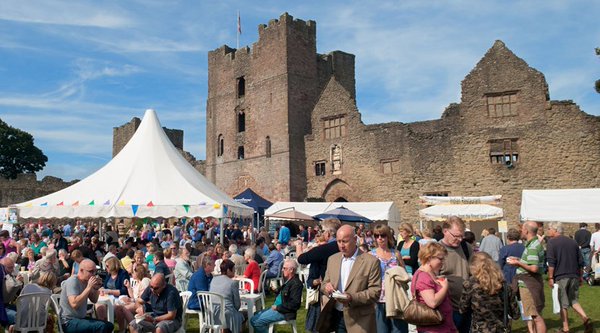 Serving an array of foodie delights from artisan cheeses, ice-cream and hand-roasted coffee, to scratch-baked bread, cuts of Estate-reared lamb and award-winning butchery products, as well as handmade scotch eggs and sausage rolls, it is the perfect opportunity to speak to the real artisans that make Ludlow Food Centre's food so special. Visit their festival marquee between 9-11 September to gain an insight in the award-winning farm shop, based just two miles north of Ludlow on the A49, in the village of Bromfield.
As one event on the food calendar ends, another begins – and so we look forward to British Food Fortnight from September 187 to October 2, where there are few places more appropriate to celebrate than at Ludlow Food Centre. When more than 50% of everything sold there is handmade on site, and a further 30% sourced from Shropshire's three surrounding counties of Powys, Worcestershire and Herefordshire, it epitomises the importance of British food, and supporting local producers. Many of its vegetables are sourced from Lady Windsor's Walled Garden, just half a mile away on the Oakly Park Estate.
But, for Ludlow Food Centre, fresh, local and handmade food is very much a year-round operation – and with its 10th birthday around the corner in 2017, it's testament to the fact that now, supporting local is more important and exciting than ever before.
Follow Ludlow Food Centre on Twitter: @ludlowfoodcentr
www.ludlowfoodcentre.co.uk
Louise Welsby
Buy-From Shropshire
Keywords: Blog, Ludlow Food Centre, Ludlow Food Festival 2016