From Rajasthan to the rolling hills of South Shropshire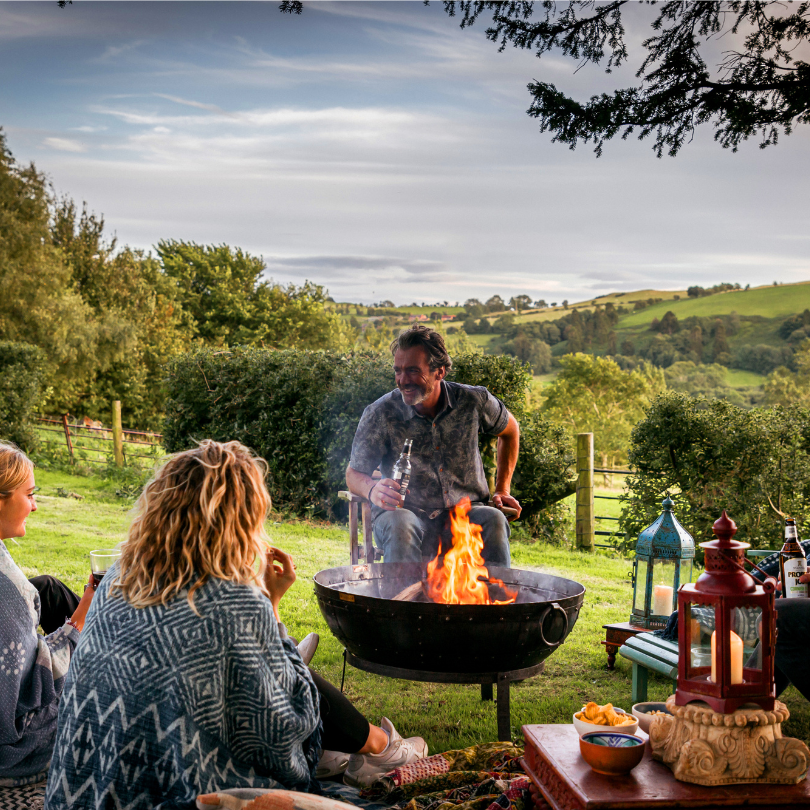 Kadai Firebowls is thrilled to be a part of this year's Ludlow Food Festival, sponsoring the Fire Stage within the Inner Bailey where a whole host of talented fire chefs will be cooking up a feast.
What is a Kadai? Karahis (or Kadais) have been used all over India for generations as traditional cooking bowls. As the centerpieces for weddings, festivals and large celebrations, people would gather around the Karahis, and some were even engraved for the occasion. A fire would be built beneath the bowls as mothers and grandmothers would cook and prepare delicious curries inside them (some of which span 2 metres in diameter).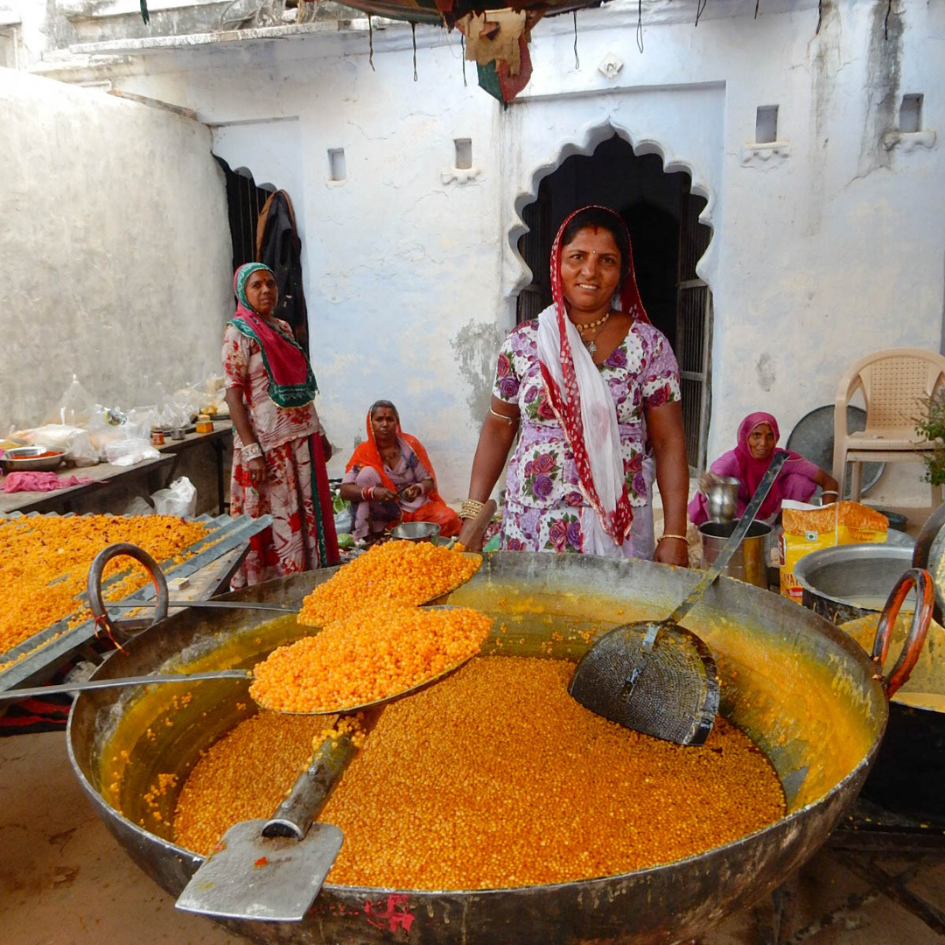 The Original Kadai
Where did it all begin for Kadai Ltd? Our story is unique, with roots in the bustling streets of Rajasthan and the rolling hills of South Shropshire. The journey for our founder, Christo, began in 2002, one chilly January night on a rooftop in Jodhpur, India. Sat around the Kadai, he decided to light a fire within the bowl to keep warm, giving this traditional piece of cooking equipment a new lease of life. It was on that memorable night that the initial idea for the Company was born.
That evening led to Christo bringing an Original Kadai back to his home in Shropshire to continue its life as a fire bowl. Standing out as a beautiful garden feature, friends and family started to place orders for their own Original Kadai. Inspired by the demand, Christo decided to use his network of Indian artisans and family-run workshops to design and make his own Kadais. The first order arrived in the UK on a low stand --the perfect height for sitting around and enjoying the flickering flames in the evening.
After a few years of dreadful barbecues, burnt food and time spent on his own at parties tending to the grill, a new idea emerged; why not place a grill into the Kadai resting above the flames to turn the bowl into a barbecue? Just like that, the UK's first ever barbecue/fire bowl combination was born. Sitting around the round bowl allowed Christo and his guests to cook together as a sociable dining experience, where everyone could get involved. Once the food was cooked and the evening rolled into the night, Christo simply lifted the grill out of the bowl and topped up the fire with some logs. The Kadai provided Christo with the things he loved the most - fire, food and laughter.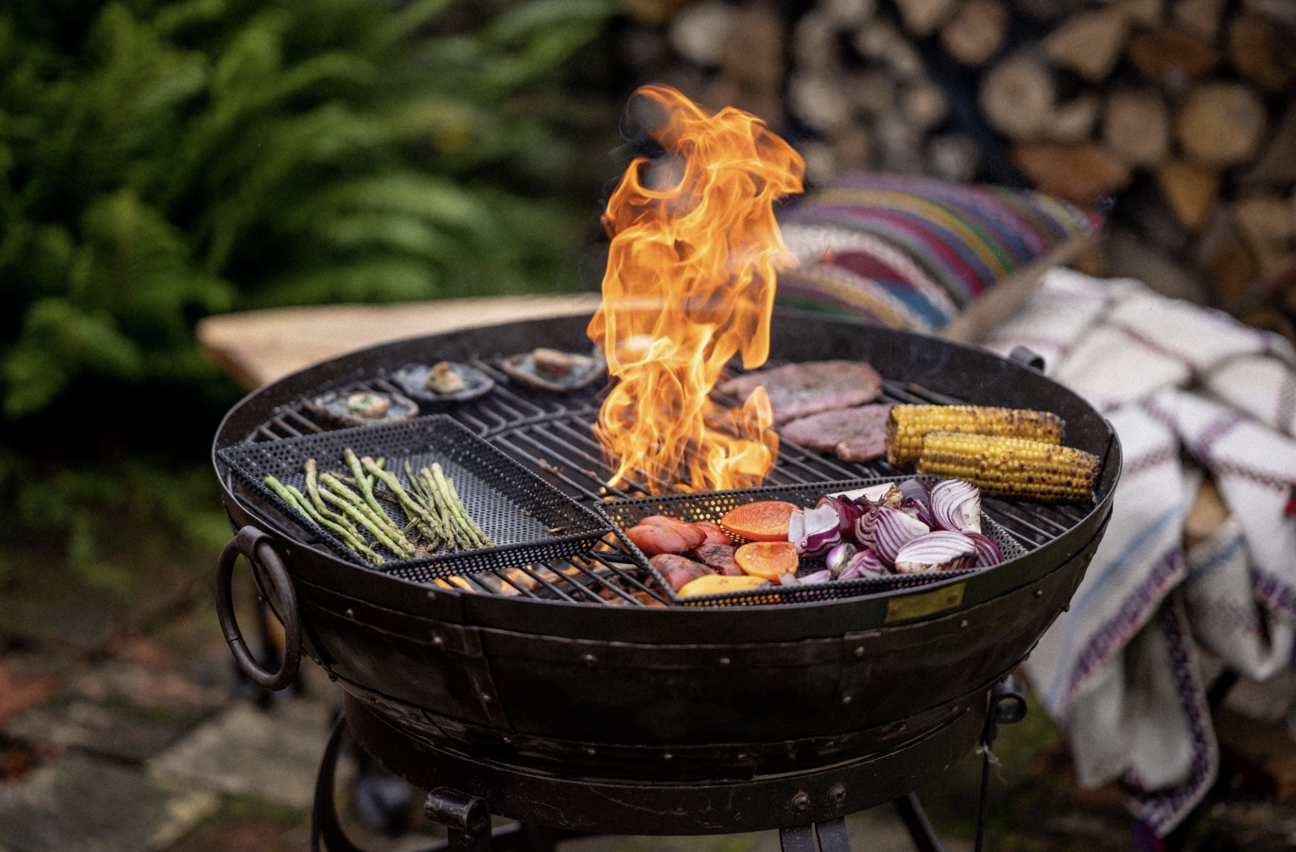 A versatile and sociable way to cook outdoors
In order for this new idea to work, Christo designed a second stand, which lifted the Kadai up to your waist at an ideal height for barbecuing. Combined with the Grill, Low Stand and a very trusty set of Tongs, the Kadai kit was complete.
From here, Kadai has grown from a business of two, to a small company of over 25 local people and is now a successful lifestyle brand, made from a love of being outdoors, cooking and entertaining guests. The product portfolio has grown to include 'must-have' accessories for Kadai owners - Kadai Beads, a Care Kit and a Shovel, and our largest collection, the Cookware accessory range, has elevated Kadai's cooking styles to include baking, roasting, frying and dirty cooking. Additionally, we sell a Fireside range that is your one-stop shop for products that will keep that fire burning: the Charcoal Starter, Charcoal Maker, and Blow Poker.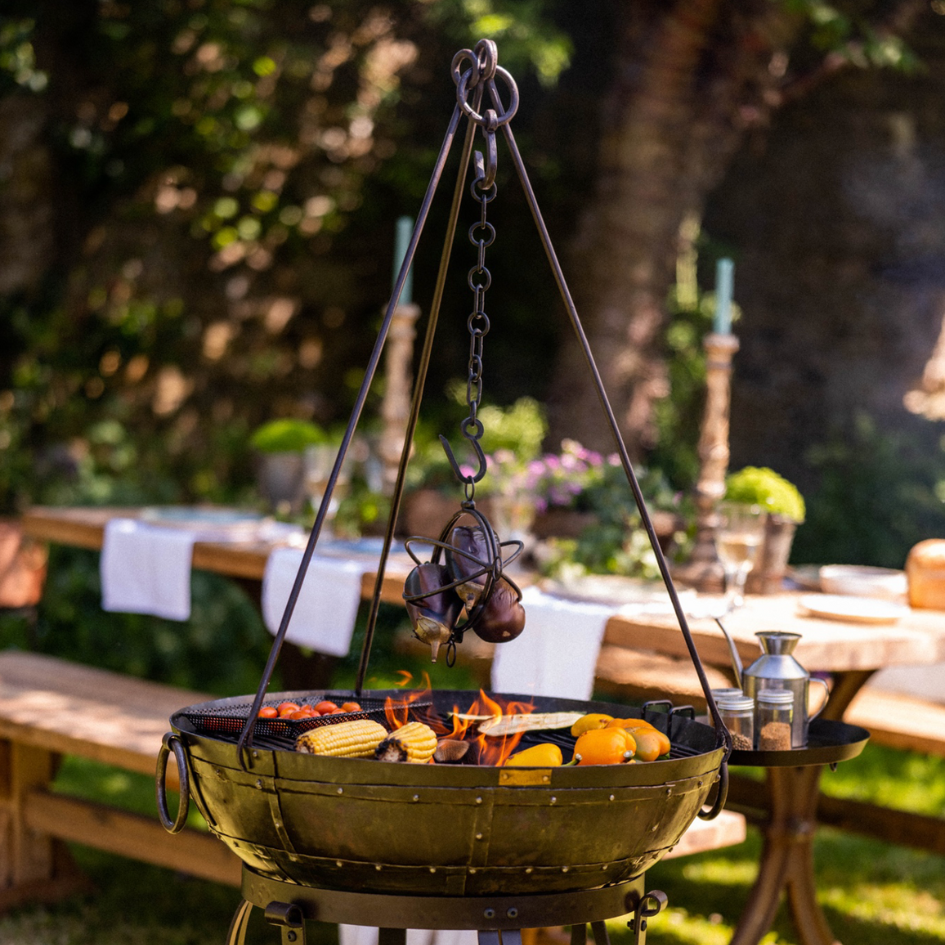 A range of accessories are available
Founded from a passion for creating functional, well-designed, handmade products to be enjoyed in the garden, Kadai is about simplicity and products that will last into the next generation. As William Morris said, "Have nothing in your house that you do not know to be useful or believe to be beautiful." Kadai is just this, as one of the only barbecues that adds to an outdoor space and does not need packing away. A Kadai inspires all, from the barbecue novice to the professional live-fire chef.
Start your own firebowl journey by visiting www.kadaifirebowls.co.uk and see them in action all weekend at Ludlow Food Festival on the Fire Kitchen Stage. The Kadai team will also be on hand to answer any queries.
Keywords: