5 minutes with Brad Carter
Brad knew he wanted to be a Chef at the age of 11 when he discovered his skill and passion for cooking after entering a Pizza Competition at school.
The young chef's dream was turned into a reality when he opened the doors of Carters of Moseley with his partner Holly Jackson in November, 2010. Recognition soon came from the top when they were awarded a coveted Michelin star in September 2015 and winning Good Food Guide Readers' Restaurant of the Year 2015 competition. Take 5 minutes with Brad in our latest blog.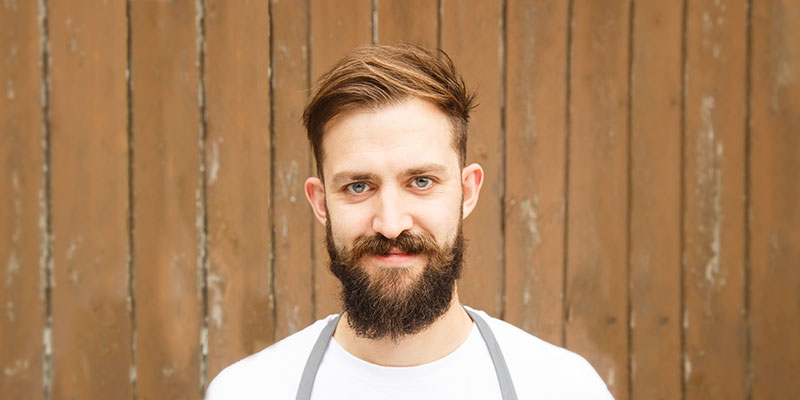 Five Minutes with Brad Carter
What are you most looking forward to at Ludlow Food Festival?
I always look forward to Ludlow, it's a great festival and always has amazing local producers there amongst others and it has a great atmosphere. I love to catch up with friends and get cooking with the Wots Cooking team. Also I love to meet new potential guests at Carters
What's your top tip for seasonal produce in September?
The produce in the UK in September is always exciting as it's the only month where we have summer tomatoes, game, wild mushrooms and sweetcorn on the same menu. It's the crossover from late summer to autumn but it brings the most in variety and textures, I love that month!
What's your best food hack/top shortcut? e.g. freeze ripe bananas, learn to use a knife properly
When you rinse or wash your mushrooms, dry them with hairdryer! This will help them to stay pristine a lot longer and the dryer they are the better to roast or fry!!
What's your store cupboard essential/the one ingredient you couldn't live without?
It's always salt. If you have a perfect piece of fish, meat or vegetable, they all only need salt to enhance the flavours. I have my own range of salts, different flavours all inspired by some of my favourite ingredients, I take them everywhere!!
What's your current favourite recipe?
I love the Japanese stock base, Dashi. It's something we have always had on our menu as it's a perfect lighter, but full flavoured stock that suits our long style of menus because of its lightness, we experiment with the additional ingredients all the time, a recent favourite of mine was infused with English grown Wasabi!
Keywords: