Dinham Weir House – Unique Destination in Ludlow with in-house Chef
This year sees exciting additions to the property with private chef Harry Bullock joining the team. We caught up with owner Jude to find out more…


Can you give us a little introduction to Dinham Weir House and what makes it such a unique destination?
This special house has such a great history of being a unique place to stay, eat and enjoy the company of friends and family in the gorgeous historic town of Ludlow. Its setting is pretty unbeatable – under the castle, on the river – a short walk into town or into the beautiful woods opposite. We have been running Dinham Weir House for 5 years now and we hope we have not only continued this reputation but brought new life to the house with our new offering: a celebration house for hire with its own private chef on site.

There's been lots going on behind the scenes for you this year – tell us how Harry and his team came on board
We're really excited to have Harry join us in the next chapter of Dinham Weir House. In the last 5 years, the demand for a private chef for our guests' celebrating their special occasions became more frequent with every booking. Once we had discovered the local talent of Harry Bullock, he then always become our number 1 choice. Not only is he a remarkable chef delivering an exquisite dining experience, what really makes him even more special, is his friendly and reliable nature. Our guest feedback wholeheartedly agreed with this.
The next step that stood out for us was to secure Harry as a resident chef onsite here at Dinham Weir House. It just made complete sense to make him a part of our professional family.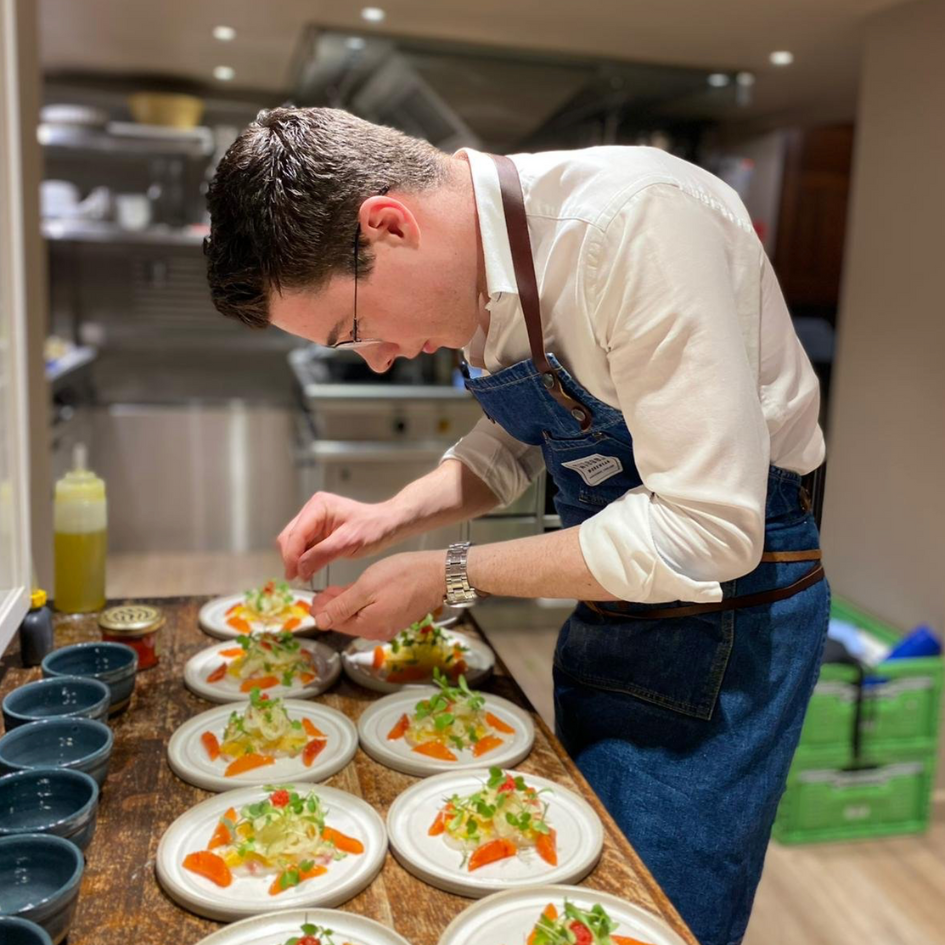 What will this unique set-up offer to guests?
When guests book Dinham Weir House they have the opportunity to book Harry for anything from his Friday night delivery menu, to a one pot welcome supper, a tasty brunch, a self-service spread of dishes or a stunning full 3-7 course dining experience with wine pairings and his whole team.
We're very lucky to now have him on-site making the whole experience even better for our guests and for Harry and team. It has been known for guests to increase their orders through the week as they get to know Harry and enjoy all the tasty offerings coming from the kitchen!
What memorable dining moments have you had so far at Dinham?
Our most memorable moment to date has to be when Dame Judi Dench came to stay this June whilst she was taking part in Ludlow Fringe Festival. We were so proud to be able to play host the evening to Judi and her friends. She was a complete joy all evening and was happy telling everyone in Ludlow the next day that it was the 'best meal she's ever had', so of course Harry and the team were over the moon. We have a wonderful note from her framed in the downstairs bathroom now for all our guests to enjoy.
What will this bring to the local area of Ludlow?
Together we hope we raise the profile yet again of Ludlow as a food destination. We believe Harry will continue to bring Michelin star standard food and service to this brilliant historic market town.
Harry and his team always work hard to support local suppliers and producers, making this a beneficial and fulfilling venture for all. With this partnership there will all so be new opportunity for local residents to enjoy this collaboration. Look out for more announcements to follow!
Please check out our website and sign up to our newsletter wwwdinhamweirhouse.co.uk
Dinham Weir House's sister property - Redford Farm Barns, is also a perfect destination for guests wanting to get family and friends together over great food. What makes this property different to Dinham?
Nearly 10 years ago we found Redford Farm – a derelict farmhouse, land and outbuildings on the edge of South Shropshire – and we had a dream to restore it all to create Redford Farm Barns -a place for friends and family to gather, relax or celebrate in. The barns were a full restoration project having previously only been home to animals! We wanted the environment to feel special yet very comfortable and homely too. Think log burners, exposed brickwork, beams, sustainably sourced furniture, quilts… and not to mention our beautiful farm animal mural on the walls hand painted by local artist Lydia Millward. We are often told that we have the balance just right and that we've thought of everything. Being fully immersed in rural views and set among our family's small holding, it has a more rustic charm to Dinham Weir House. We are really proud of it.
You can find out more about Redford Farm Barns at redfordfarmbarns.co.uk.
Keywords: