In Conversation with Mark & Sue Stinchcombe
In Conversation with Mark and Sue Stinchcombe
Head Chefs- Eckington Manor
(answers by Sue Stinchcombe)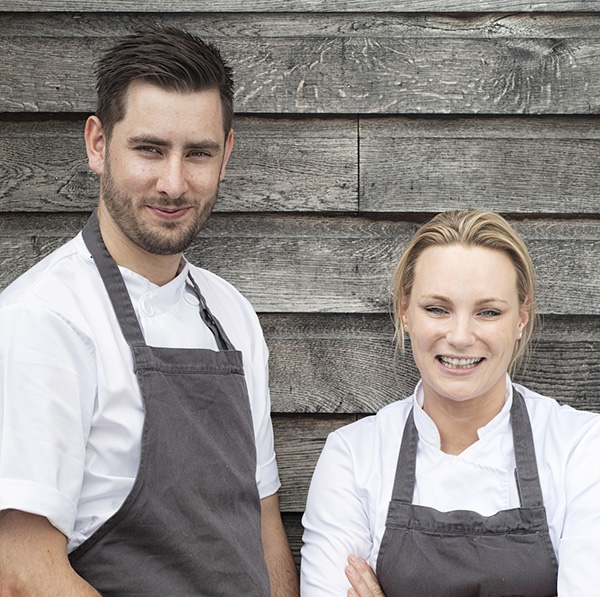 When did you first realise your passion for cooking?
Mark and I realised from a young age our passion for cooking. I was lucky as a youngster to have fruit and vegetables out of the garden at home and my Mum was a great home cook; she let me loose in the kitchen which I loved! Mark had an amazing Home Economics teacher at school, Mr May, who encouraged and inspired his creative nature when it came to food.
Did you draw inspiration from any particular chefs earlier on?
From early on in our careers, we have both looked up to Gordon Ramsay and Thomas Keller in the chef industry. We have eaten in their restaurants, bought their cookery books and done stages at their restaurants, learning at first-hand the ways in which they create their incredible dishes.
How would you describe the menu/ dining experience that you create at Eckington Manor?
At Eckington Manor, we're all about relaxed, fine dining. We don't have table cloths in the restaurant and the building is a converted Dutch barn, but everything is done to the very highest in quality and standard to create a relaxed, friendly environment that delivers on taste. We are both classically trained chefs and our menu is seasonally-led, showcasing delicious, fresh produce in the very best way possible.
What are your favourite dishes to cook?
One of our favourite dishes is our own Eckington beef. Originally created when Mark was competing in MasterChef: The Professionals (which he won in 2015), this dish is now a stable on our menu and epitomises what we believe in at Eckington; fresh, seasonal produce, sourced as locally as possible. We use our own fillet and short rib of beef from Eckington Manor's farm and the heritage carrots used in the dish are grown in our vegetable garden, which are pickled and salt-baked. Cavolo Nero, also from our garden, is used in the dish, and is served with a charcoal emulsion which Mark cooked on the final programme of MasterChef: The Professionals. To be able to showcase this on our menu is fantastic and we enjoy cooking this very much; a dish very close to our hearts.
What country's cuisine most inspires you?
Before we came to Eckington Manor, Mark and I went travelling, visiting Australia, New Zealand and Thailand. Mark worked at Attica in Australia where he gained huge inspiration before we set off eating our way around Australia, New Zealand and the top 5 restaurants in Thailand. We wrote a journal along the way of all of the inspiring menus and ingredients we saw, which we regularly look to when creating new dishes for inspiration.
What are you most excited about when it comes to Ludlow Food Festival?
We love coming to Ludlow Food Festival; so many passionate foodie people, loads of great stalls and stands – it's just a lovely day out!
What can attendees expect to see from your cookery demonstration?
When we do our cookery demonstration at Ludlow, Mark and myself will be showcasing some of the tasty dishes that we serve in the Eckington Manor restaurant, demonstrating what we create using our own beef and carrots from the farm and garden, and a beautifully fresh orange and plum soufflé.
Mark and Sue at their demo at 11:30 on Saturday at the festival on the Wots Cooking stage.
Keywords: Chef Spotlight, Mark Stinchombe, Sue Stinchombe, Wots Cooking, Ludlow Food Festival