Literary Ludlow: Bill Sewell
Literary Ludlow: Bill Sewell
Sunday 10th September, 12pm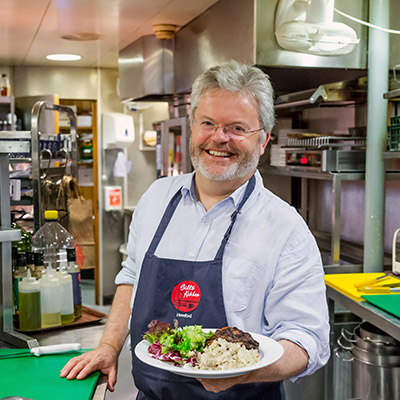 Bill is a Foodwriter and Restaurateur.

After a Cambridge degree and a brief wrong turn into accountancy with Price Waterhouse, Bill Sewell followed his love of cooking to open his first award-winning restaurant 'The Place Below,' in the crypt of St Mary-le-Bow, in 1989. His reputation for no-nonsense cooking techniques and delicious, sustainable food earned him regular features with BBC Good Food and Waitrose Magazine, before completing his two classic and much celebrated vegetarian cookbooks 'Food from The Place Below' and 'Feasts from The Place Below', both which remain in print today.

In 1997, following the success of 'The Place Below,'Bill was persuaded to spearhead a unique English Heritage and Heritage Lottery Fund church and café project, in the near derelict All Saints Church, Hereford. Café@AllSaints celebrates its 20th anniversary this year and is widely regarded as the 'original and best' church reordering scheme in the UK. Restaurants in St Michael's Cambridge and St David's Cathedral followed, reflecting his ethos of fresh, simple and seasonal homemade food created with top quality produce from local farms.

Earlier this year Bill turned to crowdfunding website Kickstarter, to support his new book 'Bill's Kitchen' and contributions from around the world exceeded his fundraising target in just a fortnight! The result is a beautifully finished hardback, fully illustrated with gorgeous photography, elegant typesetting and practical layout. 'Bill's Kitchen' is packed with over 120 of his 'all-time greatest hits recipes' from 30 years of cooking at home and in his cafes, featuring chapters on breadmaking, hearty and healthy family suppers, entertaining friends, using leftovers and creating
luscious cakes and deserts.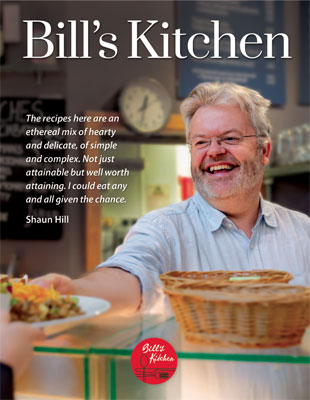 Keywords: Bill Sewell, Literary Ludlow, Aardvark Books, Ludlow Food Festival