Behind the Scenes: Wots Cooking

Wot's Cooking is run by Katie and Glyn Johnson. Katie worked as a Presenter & Producer for BBC Radio for 15 years and Glyn 38 years.
From their base near Ludlow Shropshire, they not only supply Demonstration Kitchens and Cookery Theatres, they can provide all the extras too: Comperes, Technicians, Chefs and Demonstrators, Lighting, Staging, Video and Sound.
We certainly would not be able to run Ludlow Food Festival without the Wots Cooking team. We caught up with Katie to find out more about their close relationship with the Ludlow Food Festival.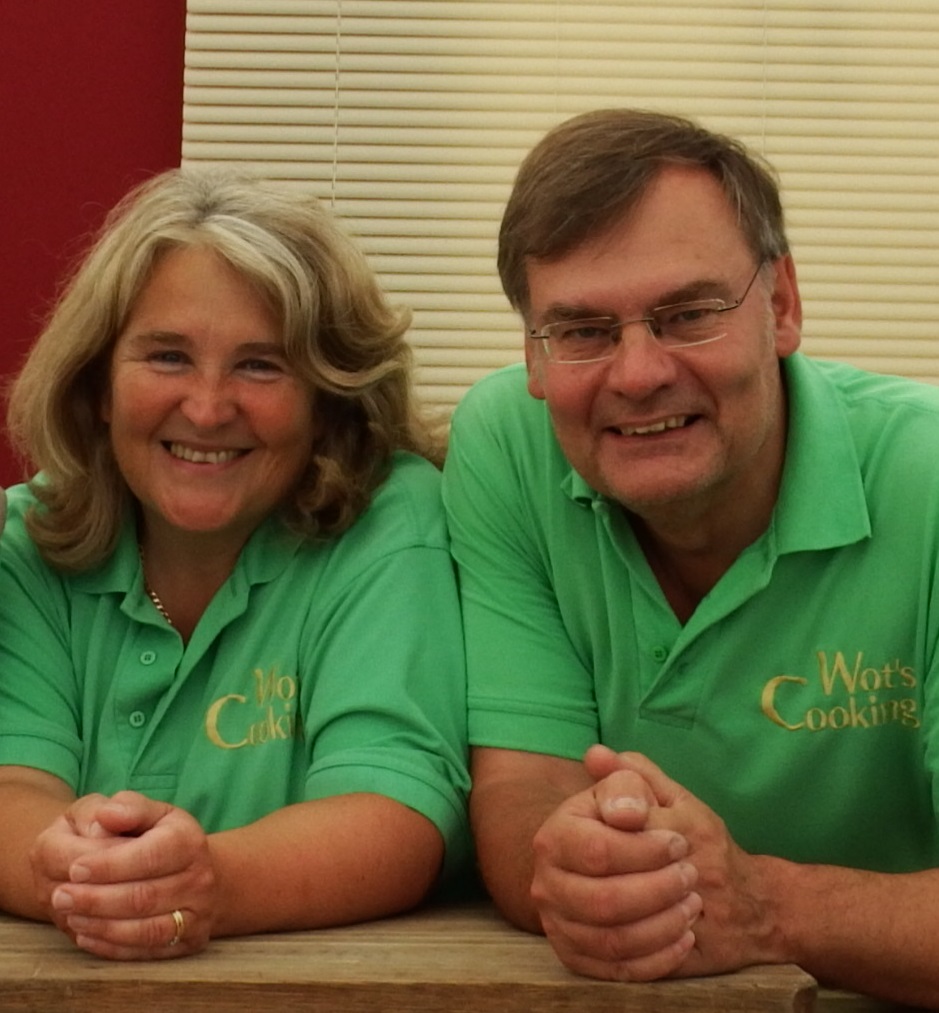 So, Katie, tell us more about Wots Cooking and how it began?
During our time with the BBC, we were invited to Compere various events such as Music, Food, Drink & Gardening Shows which we both enjoyed. When we left the beeb, this carried on and mostly for Food Festivals which was lovely and a real compliment. Then we thought, hang on, if we develop a Demo Kitchen we can create our own business, especially as I had always been passionate about local food and Producers as I began my career in Dairy Farming (long story)!
7 years on, 7 kitchens later we now work with 45 Festivals a year, have the most amazing Chef friends all across the country who come and demo with us, and a team of 20 mostly former BBC Colleagues, who are our 'Team in Green' family and we couldn't do it without them.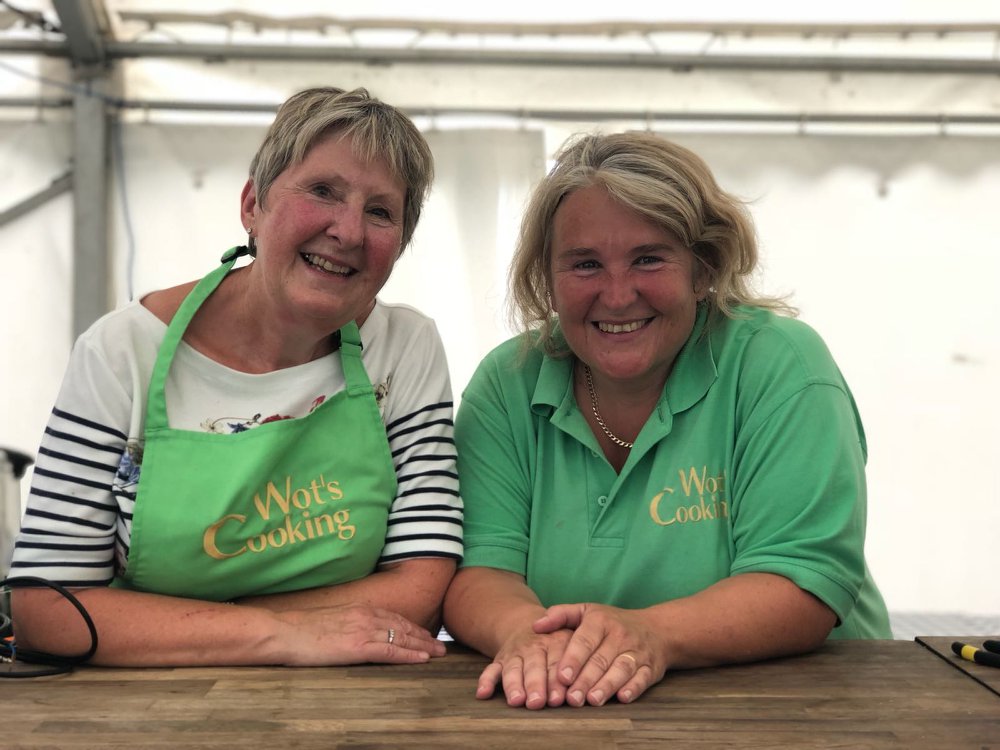 How long have you been involved in the Ludlow Food Festival?
After being visitors for the first few years, 2018 will be our 9thyear working at the Festival and the 4thwe have organised the Demo Schedules, Talks/Tastings and more recently Bake in Time.
What is special about the Ludlow Food Festival?
Where do you start?! First you have the most incredible setting, the Castle comes alive over the 3 days. Add to the mix the fact that Ludlow was the first ever Food Festival in the UK, and when you think after 24 years new ones are still being added to the calendar, Ludlow was certainly ahead of its time, and what's even more incredible is that the ethos hasn't changed which is wonderful. Then there's the atmosphere which is rather special, made up of the Producers with their fabulous wares, the Volunteers who give their time and the extra buzz of maybe spotting a celebrity or two. For me personally, I love the audiences who take the time to sit a while and join in with the Demos. We do have a lot of fun and it's much appreciated when we and the Chef looks up and sees smiling faces – love it.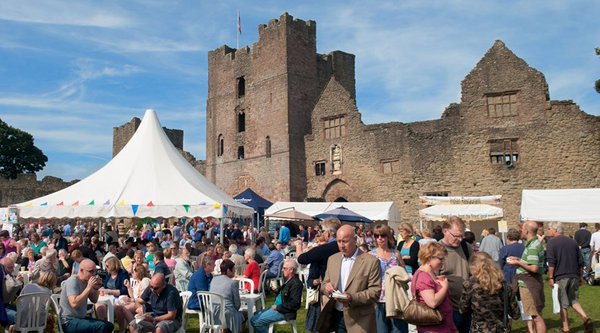 Can you tell us about some of the chefs you are bringing to the Festival this year?
We are very fortunate in this part of the world to have such an array of amazing talent. Not all of them are able to join us at such a busy time for the town and surrounding counties and those who can, I wouldn't want to mention only a few as they are all fantastic, but feel we must congratulate Andy Link from The Riverside Inn, Aymestrey who was recently awarded 'Visit Englands Tourism Pub of the Year.'
Further afield, we have Liam Dillon from 'The Boat Inn' Lichfield, current 'Midlands Chef of The Year' and former mentee of Festival favourite Will Holland when they were both at La Becasse.
Michelin Starred Brad Carter of Carters of Moseley, Birmingham loved his time with us last year so we've invited him back on the Friday alongside 'Great British Menu' Stars Ellis Barrie, who will be on our screens again this Summer - Chef/Owner of The Marram Grass, Anglessey and also former contestant David Kelman, Head Chef at Cowley Manor, Cheltenham.
From 'Masterchef Professionals,' Louisa Ellis, a Finalist from last year will be with us on the Friday as will former winner of 'Masterchef,' Thomasina Miers and if that wasn't enough, Jane Devonshire who also won the programme in 2016 will be with us Sunday.
For fans of 'The Great British Bake Off,' we have possibly 4 of the most popular contestants:- Beca Lyne-Pirkis who is now a Television Presenter on S4C, Howard Middleton who is well and truly a Ludlow favourite, Sandy Docherty with her Creme Brulee wobble, and Val Stones who's farewell speech was voted a number one moment in the series.
Look out for Samantha Evans and Shauna Guinn, aka Hangfire BBQ who since joining us last year, now have their own series on BBC Wales and that's before I mention Prudence Staite who sculpts in cheese and chocolate!
We have award winning Food Writers, top Vegan specialists, Gluten Free experts, local and National Chef Superstars, Talks and Tastings from the best Producers and best speakers in their field - and just to let you know, 2019 is already taking shape with Chefs who were unable to join us this time, wanting to make sure they are with us for the next!
What are you looking forward to most about about the Food Festival?
Catching up with Friends both old and new, be them Producers, Chefs/Demonstrators and regular Festival visitors too. We love it when you come and say hello, so please do – see you there!
WE CAN'T WAIT! BOOK YOUR TICKETS HERE!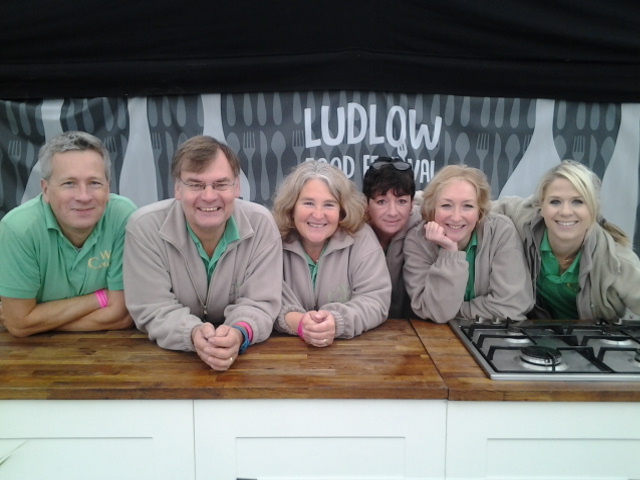 Keywords: Wots Cooking, Blog, Ludlow Food Festival