KADAI
Is a lifestyle brand, founded out of a love for creating functional, beautiful and well-designed handmade products. Traditionally used across India to cook fragrant, delicious curries, the Kadai has been enjoyed for generations.
Only now, a new style and use has been created as a functional barbecue and firebowl combination, along with an ever-expanding range of accessories to entertain, feed and keep us warm in the great outdoors.
Now adapted to a modern lifestyle, Kadais make the perfect firebowl on a low stand or can be elevated on a high stand and fitted with a grill to be transformed into a barbecue.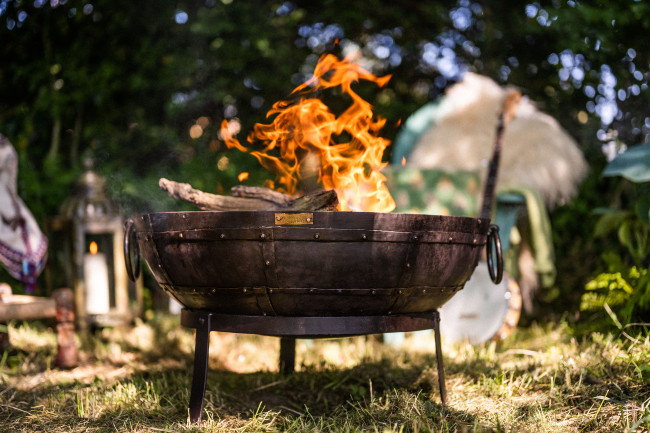 For nearly two decades, Kadai has been producing this iconic barbecue and firebowl combination, continuously developing new accessories to increase the versatility of this tried and tested design. Alongside the Kadai is a lifestyle range that will complete the perfect setting.
All products are made from sustainably sourced and recyclable materials, with the environment always in mind. By purchasing a Kadai or accessory, you are helping keep these rich traditions of hand-worked metal, stone and woodwork alive and maintaining the culture of family-run workshops in India.
A Kadai inspires all, from the barbecue novice to the professional live-fire chef. The simplicity of cooking over fire is something that never gets old. With the irresistible, smoky but subtle flavour it adds to food, it is truly the best way to spend time outdoors with friends and family.